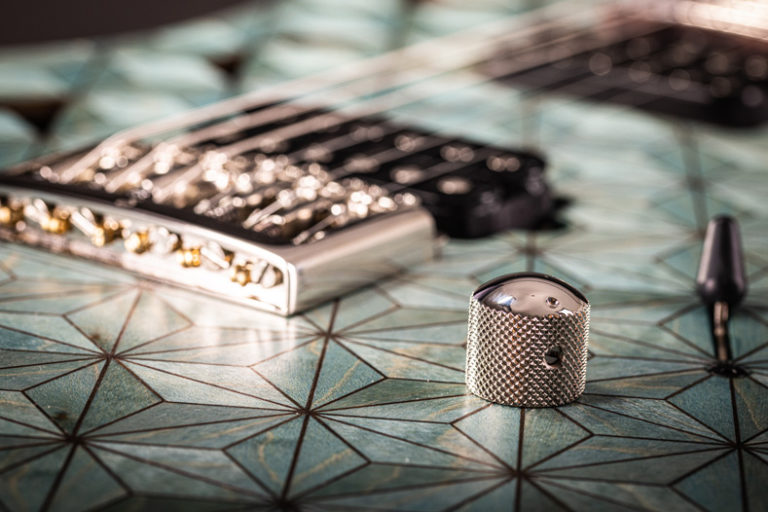 TOMO, a more modern yet timeless double cut guitar design that is always 'en vogue' and offers high flexibility
this is TOMO, our double cut model offering a more modern package with fine tuned sounds coming from the well chosen HB + P90 configuration as well as optimized playability from the lowest to highest frets. control layout is chosen to match the beautiful pattern of the mosaic maple guitar top as well as easy unblocked access. this model weighs around 3,35kg
guitar body spec
signature mosaic maple top with asanoha pattern
three piece ash body with 37mm thickness (incl. maple top)
comfort contours back and front
optimized and well rounded neck joint heel design
pickup routings both humbucker sized
pickups direct mounted with threaded inserts
electronics cavity accessible from the back
barrel type input jack is recessed at an angle into the guitar body
special multilayer oil finish
guitar neck spec
one-piece quarter sawn maple neck with steamed pear fretboard

650mm scale length
20mm thickness @ 1st fret
21,5mm thickness @ 12th fret
305mm fretboard radius
24 stainless steel frets

'edge scallop' on all 24 frets
bone nut
bolt-on design using threaded inserts and mechanic screws
hex-shaped fretboard inlays
unique headstock design
2+4 Schaller 'M6 pin' type locking tuner configuration
natural oil + wax finish
electronics and controls
Häussel pickups VIN+ B ceramic and P90 HOT HB N
Schaller 3-way megaswitch
500kOhm linear volume pot
'treble bleed' capacitor
Schaller dome knob
Switchcraft barrel type input jack
cavity cover made from aluminum for robustness and shielding
Prices starting at 3.589 € (for configuration as listed above and shown in the pictures)


OKITA, a more classic but well balanced offset guitar design with optimized playability
OKITA – our approach to a well balanced 'offset design' offering beautiful sounds that cover a broad range of musical styles, further improved playability with 22 frets and a 640mm scale length. this model weighs around 2,95kg
guitar body spec
signature mosaic maple top with asanoha pattern
three piece alder body with 38mm thickness (incl. maple top)
comfort contours back and front
optimized and well rounded neck joint heel design
pickup routings both humbucker sized pickups direct mounted with threaded inserts
electronics cavity accessible from the back
barrel type input jack is recessed at an angle into the guitar body
special multilayer oil finish
 
guitar neck spec
one-piece quarter sawn maple neck
steamed pear fretboard

640mm scale length
21mm thickness @ 1st fret
22,5mm thickness @ 12th fret
305mm fretboard radius
22 stainless steel frets

'edge scallop' on complete fretboard
bone nut
bolt-on design using threaded inserts and mechanic screws
hex-shaped fretboard inlays
unique headstock design with 2+4 Schaller 'M6 pin' type tuner configuration
multilayer natural oil + wax finish
 
Häussel pickups
Schaller 3-way megaswitch
500kOhm linear volume pot
'treble bleed' capacitor
Schaller dome knob
Switchcraft barrel type input jack
cavity cover made from aluminum for robustness and shielding
Prices starting at 3.589 € (for configuration as listed above and shown in the pictures)


A very special custom option called "Soundbowl", featuring a sound chamber and sound holes.
Based on our standard offset design model, OKITA, we have created a unique custom shop version. This incorporates a special bowl shaped sound chamber routed into the guitar's body. Sound holes are created by open parts of the guitar top's pattern above that sound chamber. The shape of the sound chamber is designed to be completely non-parallel on all sides, therefore avoiding unwanted peaks in resonance frequencies. These could cause notes to pop out louder than others, and destroying the balance of the guitar's sound. Instead, our 'soundbowl' design leads to a beautiful sounding, broader impact on the overall tonal character of the guitar.
This version of the guitar is only available through a custom shop build and open to all other options we offer through our custom shop. You can find all available options by following this link to our custom shop page. When designing your custom shop instrument with the 'soundbowl' option, you can also chose the color of the 'soundbowl' as well as the pattern and positions of the sound holes.
Prices starting at 4.310 € (for standard configuration OKITA with soundbowl option)